Volunteer
Give A Day For The Bay
Give-A-Day For the Bay is a volunteer program sponsored by the Tampa Bay Estuary Program to directly involve citizens in restoring Tampa Bay. At Give-A-Day events, the Tampa Bay Estuary Program staff, local partners, and community volunteers put in "sweat equity" to clean and restore bay area parks and preserves. From removing exotic vegetation to creating living shorelines, these interactive events encourage volunteers to get dirty, give back, and have fun!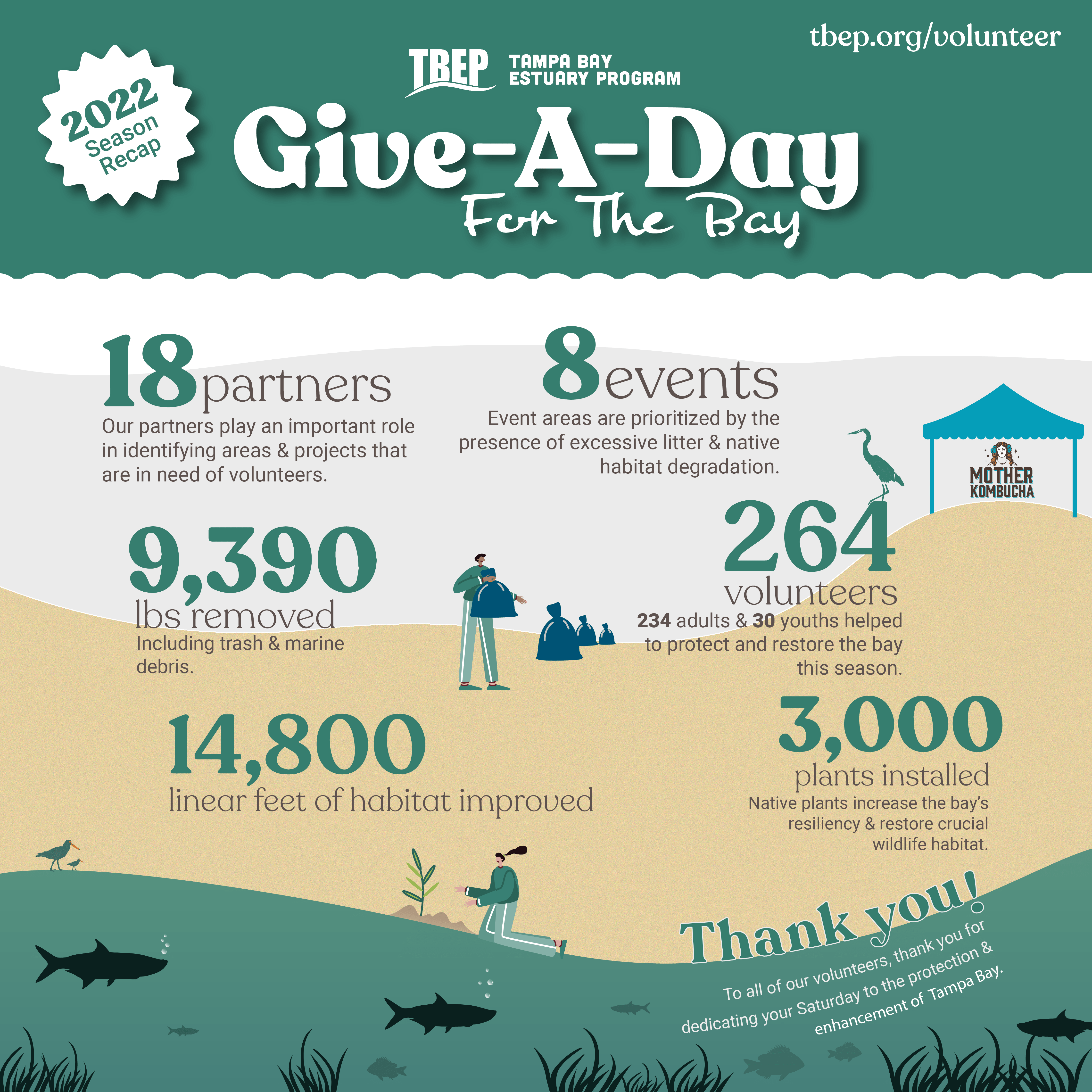 E.G. Simmons Regional Park
E.G. Simmons Regional Park, 2401 19th Ave NW, Ruskin, FL 33570, USA
Volunteers of all ages work hard and are rewarded with lunch and the knowledge that they have played an important part in helping to preserve the diversity and integrity of the bay's natural ecosystems.
Visit our calendar to find out about the next event & sign up!
Join our email list to be added to the volunteer day distribution list.
Participatory Science
Public participation in scientific research (also known as Citizen or Participatory Science) encourages community involvement in the advancement of scientific research. These kinds of efforts invite everyone from young naturalists to amateur scientists to assist in the discovery of solutions to important environmental issues while providing them with hands-on research experience. Below are a few you can get involved with right here in Tampa Bay.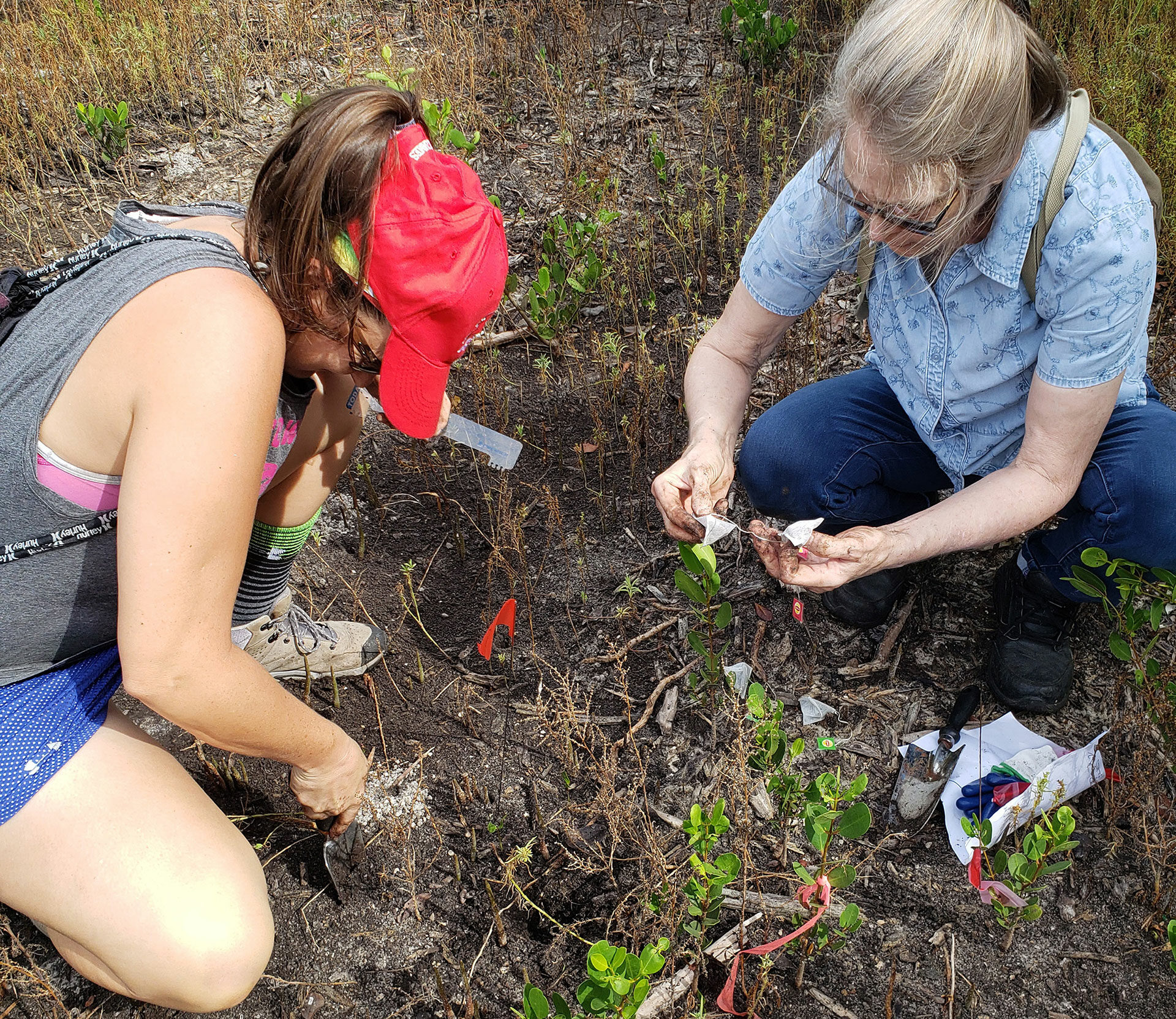 TBEP,  Sarasota Bay Estuary Program, and Manatee County Parks and Natural Resources Department
Interested in being part of Tampa Bay's restoration story? One way you can is by adopting a Vertical Oyster Garden, or VOG, and installing it off your dock! VOGs are strings of recycled oyster shells collected from local restaurants. When suspended in brackish water, these strings of oyster shells provide the ideal habitat for young, larval oysters to settle and grow.
Tampa Bay Watch, Tampa Bay Estuary Program
Scallops are marine, algae filtering animals that are extremely sensitive to declines in water quality. Tampa Bay scallops disappeared in the early 1960s as a result of pollution in the bay. Water quality and seagrasses have significantly improved to levels that now support bay scallop populations.The Great Bay Scallop Search is an annual monitoring event. Citizen scientists snorkel along a transect line to search for scallops in selected areas of Tampa Bay. This monitoring helps document bay scallop population in Tampa Bay. For more information, visit tampabaywatch.org
Eckerd College, Keep Pinellas Beautiful,Tampa Bay Watch, UF/IFAS Extension, Tampa Bay Estuary Program
Microplastics are an emerging contaminant of concern in our local waters and a priority issue for the Tampa Bay Estuary Program. Eckerd College has developed monitoring protocols to document the abundance, spatial distribution, and ecological effects of microplastics in Tampa Bay. In partnership with Keep Pinellas Beautiful, Tampa Bay Watch and the UF/IFAS Extension Florida Microplastics Awareness Project, we are seeking volunteers to improve understanding of microplastics in the Tampa Bay watershed. Volunteers will be trained to collect, filter, and analyze microplastic contents in Tampa Bay water samples.
Tea Time For Science
Tampa Bay Estuary Program, Sarasota Bay Estuary Program, Restore America's Estuaries
Climate change is affecting many coastal areas, including Tampa Bay.  This citizen science project helps us understand how different coastal ecosystems mitigate the change through blue carbon sequestration, or the storage of carbon in biomass below the soil. Trained citizen scientists used tea bags to examine soil decomposition and respiration rates variability around the estuary.
Mission-Aransas National Estuarine Research Reserve, Tampa Bay Estuary Program
A nurdle is a plastic pellet which serves as raw material in the manufacturing of plastic products. Nurdles are washing up on United States beaches by the millions. In order to map the source of the contaminants, Nurdle Patrol needs help locating where the small plastic pellets are washing ashore. Conduct your own nurdle survey and let them know how many pellets and where you found them.