Give-A-Day for the Bay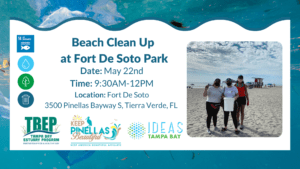 Join Tampa Bay Estuary Program, IDEAS For Us and Keep Pinellas Beautiful to clean up our oceans at Fort De Soto Park
Ocean plastic pollution is a growing crisis that is wreaking havoc on our coastal and marine ecosystems. Join Tampa Bay Estuary Program, IDEAS For Us and Keep Pinellas Beautiful as we work to locally solve this problem by mobilizing the community through a beach clean up at Fort De Soto Park!
Please wear a mask and sunscreen and bring water! You are welcome to also enjoy the beach while cleaning up so bring something to sit on and a snack. Lunch will be provided for registered volunteers as well!
Registration will be capped at 30 volunteers, so sign up today!
https://www.eventbrite.com/e/beach-clean-up-at-fort-de-soto-park-tickets-145301876825